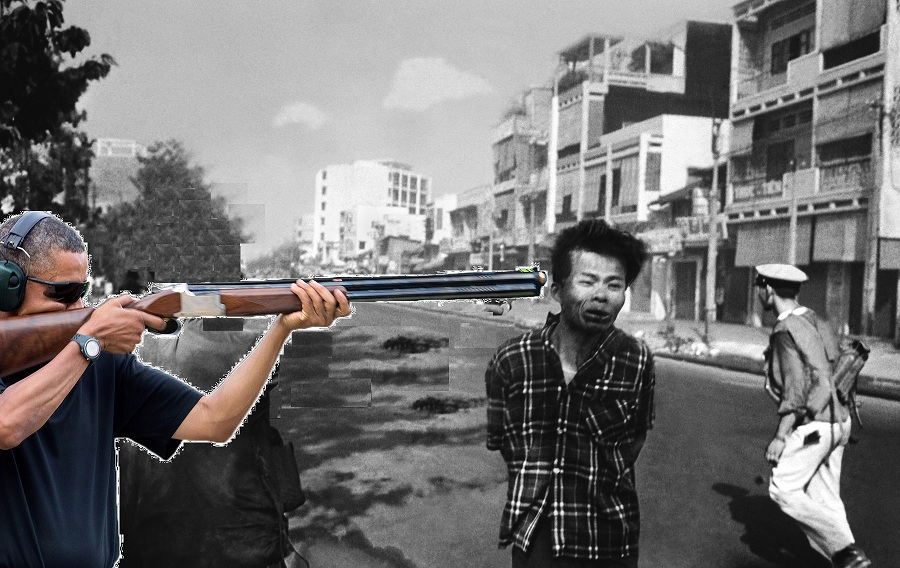 Obama shooting in Vietnam

The Whitehouse says about this photo: "This official White House photograph is being made available only for publication by news organizations and/or for personal use printing by the subject(s) of the photograph. The photograph may not be manipulated in any way and may not be used in commercial or political materials, advertisements, emails, products, promotions that in any way suggests approval or endorsement of the President, the First Family, or the White House." So here's a Photoshopped ("manipulated") copy of it!

Clean URL
/obama-shooting-vietnam
URL with extension
/obama-shooting-vietnam.jpg
MIME type
image/jpeg
Dimensions
900×568
File size
241,542 bytes
Author
unknown
Added to library
2013-02-02
Last modified
2013-02-02T20:58:55+00:00
Created
2013-02-02T20:58:55+00:00
EID
00000000076E
OID
1.3.6.1.4.1.22897.1.6.80.2.3.1.1091
UUID
fd03d782-6cf9-4253-9b7a-e82e3527d943
MD5 checksums
SHA-1 checksums
SHA-256 checksums
Ελευθερια ηδονη αταραξια.