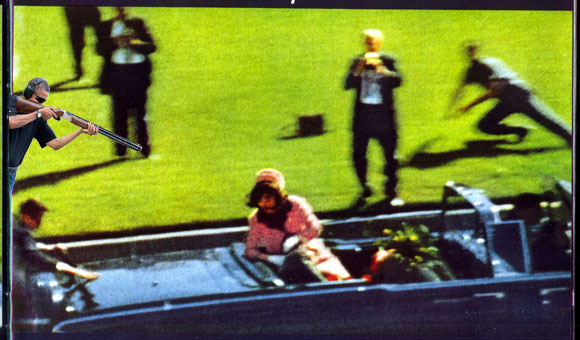 Obama shooting JFK

The Whitehouse says about this photo: "This official White House photograph is being made available only for publication by news organizations and/or for personal use printing by the subject(s) of the photograph. The photograph may not be manipulated in any way and may not be used in commercial or political materials, advertisements, emails, products, promotions that in any way suggests approval or endorsement of the President, the First Family, or the White House." So here's a Photoshopped ("manipulated") copy of it!

Clean URL
/obama-shooting-jkf
URL with extension
/obama-shooting-jkf.jpg
MIME type
image/jpeg
Dimensions
580×340
File size
62,635 bytes
Author
unknown
Added to library
2013-02-02
Last modified
2013-02-02T20:57:52+00:00
Created
2013-02-02T20:57:52+00:00
EID
000000000769
OID
1.3.6.1.4.1.22897.1.6.80.2.3.1.1089
UUID
95ed2565-0a47-4698-a063-e1faecc8fb1d
MD5 checksums
SHA-1 checksums
SHA-256 checksums
Ελευθερια ηδονη αταραξια.